Fried Chicken Potluck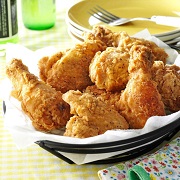 Living Water will host a fried chicken potluck lunch immediately following worship services on
Sunday, January 6, 2019
. The kitchen committee will provide the fried chicken and drinks, so bring your favorite side dish and your appetite. We hope to see you there for good food and fellowship! See any kitchen committee member for more information.
Men's Breakfast
Come join the men of Living Water Baptist Church for breakfast at
8:00 a.m. on Saturday, January 19, 2019.
Breakfast will be served in the fellowship room. It will be a great morning of fellowship and fun, and a chance to get to know one another better. All men are welcome.
2019 Youth Camp
The Living Water Youth Ministry is taking deposits for students in 6th through 12th grades to attend
Fuge Camp
in Jenness Park, CA the week of
July 22-27, 2019
. Fuge Camp is a Christian summer camp where youth will study the Bible, engage in team-building activities, and get to know other Christian teens from churches around the country.
A $50 deposit is due no later than January 27, 2019
for anyone who would like to go to camp; the full cost for the week-long excursion is $400. Opportunities are available for scholarships, or for youth to work off part of the cost of their attendance at camp. See Youth Director Liz Lewis for details.
Saturday Afternoon Quilting Classes

Living Water Baptist Church hosts quilting classes
every Saturday afternoon from 12:00 to 4:00 p.m.
Everyone is welcome, from beginners to experts. Don't want to take a class? Feel free to just show up and sew (or crochet, or knit, or whatever) with a group of Christian quilters! You can bring your own machine, or a limited number of machines will be available for use. See Tiger for details.
Church Business Meetings
Church business meetings are held monthly, and all church members are welcome to attend. Church Council meetings (for church staff and committee chairs) will occur the third Monday of every month, with business meetings following Bible study the Wednesday immediately after the Council meeting. The next Church Council meeting will be at 6:00 p.m. on Monday, January 21, 2019, and the December business meeting will be at 6:45 p.m. on Wednesday, January 23. All church members are encouraged to attend. See Sky or Mike with any questions.